Speaker
I LOVE to speak when it comes to nutrition and fitness. You will be filled with wellness education that you can take immediately into your day to day life. I live by example of what I teach on a daily basis. Whether it is a lunch and learn, athletic booster club meeting, team sport meeting, or your youth church group, you will leave with information that will implement that day.
To request me as your next speaker, please fill out the contact form below for availability.
Topic Examples:
Injury Prevention
Fueling For Your Sport
Periods And Performance
Concussions And Nutrition
Pre-Game Fueling
Puberty And Nutrition
What Is R-E-D-S?
The Truth About Energy Drinks
Why Is Fish Oil Is Important
Consultant
Virtual Nutritional Consultations
NCAA Elite Performance Nutrition Strategy - This is a deep dive and organization of the entire athletic program. You can choose to  build out your program one team at a time.
Individual Consultation - A one on one consultation focuses on everything the individual needs to focus in his/her wellness journey. During this consultation, you will receive a a deep dive into the nutrition education specifically for you. Testing packages are available. To purchase (1) consultation, click HERE.
Group Consultation - Group consultations are a great way to have a group of friends or family gather and become accountability partners in the wellness journey.   
Rec & Club Sports Team Consultation - This service is providing nutrition education for athletes.
I am very passionate about young teenagers! There is so much this age group can learn about their bodies and how and why they need certain nutrients for growth and development. Check out my package for teens HERE.
ALLISON@IROCKHEALTH.COM for more information.
(MRT Food & Chemical Sensitivity Testing)          
IS YOUR FOOD MAKING YOU SICK?
I am a CERTIFIED LEAP THERAPIST. Migraines that mimic a stroke?  Uncontrollable IBS?  Do you have or suffer from one or more autoimmune symptoms or unexplained inflammation / joint pain?  These are just three scenarios where the PATENTED MRT test can help bring you relief. The MRT will look at 170 common foods / chemicals and categorize them into levels of sensitivity. When reactions are high then there is an increased inflammation in the body. Your immune system gets involved when it views a food or chemical enters the body and your body thinks it is a poison. You could be eating organic spinach and if you are sensitive to it, your body will fight it thus producing inflammation.
Definition of MRT: a patented, comprehensive blood test which helps identify the foods / chemicals causing inflammation. This may be your missing link to helping you feel GREAT again!    
Click this link for animated videos of the test.  My oldest daughter, Azlyn, tested 1st in our family. My daughter's journey has been VERY successful. Azlyn has been able to get off 100% of all medications which included a steroid inhaler (2 puffs every night and a steroid cream for her eczema). The steroid inhaler was $200 / month with insurance! Azlyn feeling better and removing a chemical being inhaled was a HUGE success, but to also remove the expense of the medication per month was a bonus. That is a $1200 bill that no longer has to be paid per year! Many more testimonies are listed HERE.
To Purchase: MRT Food Sensitivity Test
ADD/ADHD
Asthma
Autism
Chronic Fatigue
Eczema
Fibromyalgia
GERD
IBS
Migraines
Random Rashes
Sinusitis
Weight Management
Wellness
Private or Small Group Wellness Memberships
9:30 am - 3:30 p.m. M-F
I offer a wide variety of private or group wellness classes with the following activities:
Yoga / Pilates (General Wellness or Sport Specific)
Weight Training (General Wellness or Sport Specific)
* All memberships include nutrition, by Allison Walker, registered dietitian.
Private Reformer Pilates/Strength Training Membership: Click HERE.
1 Person $60/session
Prices For Small Groups: Email me at allison@irockhealth.com.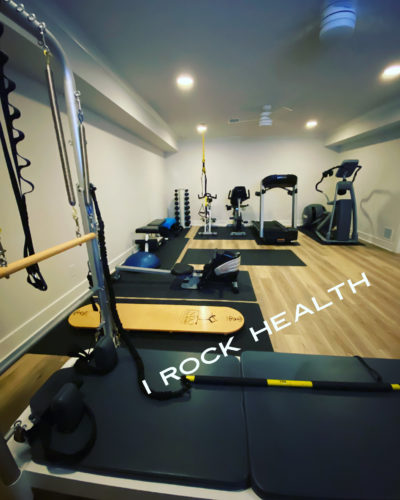 Examples:
De-Stress Meditation
Off-Day Athlete Injury Prevention
Sports Team Stretching & Pilates
Workout and Worship Pilates Class For Bible Study
* Please contact Allison at allison@irockhealth.com to discuss your personalized wellness needs.