I Rock Health compiled a list of favorite items that are used in recipes and tools we use in our kitchens! Also, many affordable workout equipment options are listed that can be used with the exercise videos provided by Allison Walker. Click here for videos! Take a look! We are here to help you with your wellness journey.
*Most of these have an affiliate link or IRH coupon. As an Amazon Associate or an affiliate for any company, we can earn from qualifying purchases at no cost to you. Thank you for supporting our small business!
*I am also an affiliate for Christianbook. The drop down link takes you to the website via my affiliate link. Ty!
Sincerely,
The I Rock Health Team
FULLSCRIPT
I love Fullscript! This is a full - service dispensary for medical - grade supplements. Once you sign up for an a account, I can give you 20% off all orders! Thank you for being AMAZING customers! My way to say THANK YOU!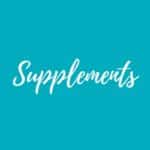 WORKOUT EQUIPMENT
GLUTEN-FREE FLOUR CHOICES
GLUTEN-FREE COLLAGEN
GLUTEN-FREE SPICES
NUTS
NON-DAIRY MILK PRODUCTS
BAKING ESSENTIALS
OILS
CHRISTIANBOOK
Some of our FAVORITES!
Anxious for Nothing, Softcover
By Max Lucado / Thomas NelsonHigh anxiety is prevalent in our fast-paced society---but here's a biblical prescription for it! Inviting you to reflect on Philippians 4:6--7, Lucado offers insights into ways God will help you cope with life's inevitable calamities. Discover how to view bad news through the window of God's sovereignty, discern Satan's lies, recognize the truth, and more. 240 pages, softcover from Nelson.
Seamless - Bible Study Book: Understanding the Bible as One Complete Story
By Angie Smith / LifewayIn seven sessions, Seamless covers the people, places, and promises of the Bible, showing participants how the entire Bible - from Genesis through Revelation - connects as one beautiful, seamless thread. Each week of study features key information that ties all of scripture together into the seamless truth of the gospel message and is accompanied by maps, general Bible facts, and word studies. Note: This study book is designed to be used with the videos included in the Leader Kit (SKU: 032311).